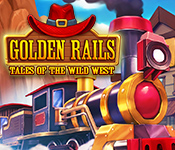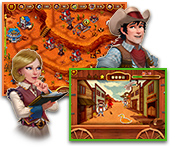 Golden Rails: Tales of the Wild West
Tame the Wild West as you build a railroad from coast to coast! Rebuild a string of ramshackle towns and have trains bring much needed supplies to the station. Don't worry, the sheriffs will lock those pesky bandits behind bars. To earn your stars, think ahead and beat the clock! Download Golden Rails: Tales of the Wild West for free and make history as the king of the tracks!
50 rootin' tootin' levels!
Classic Wild West characters!
Rockslides, droughts and other dangers!
Trains, steamships and a mechanical lumberjack!
A tutorial, an easy mode and simple controls!
Genre: Action
SubGenre: Time Management
ESRB: Everyone
Free Trial: Yes
Current Download Rank: #79

Golden Rails: Tales of the Wild West Screenshots