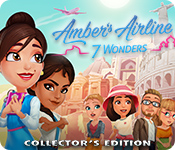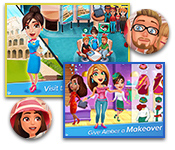 Amber's Airline: 7 Wonders





Read Our Review
Have you always dreamed of travelling to the 7 New Wonders of the World? Now you can! Join Amber and the girls as they fly around the world in Amber's Airline 7 Wonders, a brand-new time management game. Things get off to a flying start with the 7 Wonders tour, but trouble soon arises for the girls. Alongside the grandeur of the Great Wall, Chichen Itza, the Taj Mahal, Christ the Redeemer, the Colosseum, Petra and Machu Picchu, drama unfolds within the crew. Amber must rise to the occasion and help her fellow flight attendants. Test your time management skills as you juggle work duties and personal relationships! And speaking of personal relationships... Amber herself faces her biggest emotional struggle ever. It's not going to be easy. Can you help Amber?
Explore 60 story levels
Play 30 challenging time management levels
Unlock fabulous designs for the flight attendants to wear!
Fasten your seatbelt for 19 travel-themed mini games
Some girls love to keep a diary – read Amber's!
Genre: Action
SubGenre: Time Management
ESRB: Everyone
Free Trial: Yes
Current Download Rank: #571

Amber's Airline: 7 Wonders Screenshots